NEW DATES! AUGUST 21-23, 2020
Welcome to the Berkshires & The ArT of Social Distancing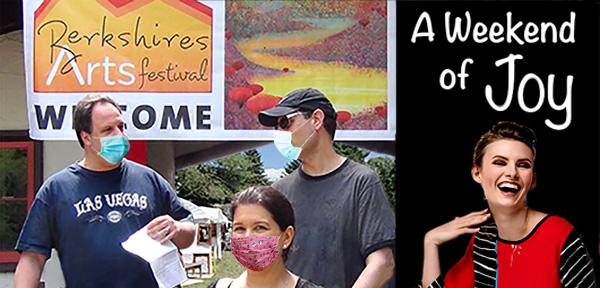 Dear Friends,
THE FOLLOWING INFORMATION IS FOR THE BENEFIT OF ALL OF OUR VISITORS AND ARTISTS. WE WANT EVERYONE TO BE SECURE AND ENTHUSIASTIC ABOUT ATTENDING THIS YEAR'S SHOW.
PLEASE TAKE THE TIME TO READ THIS VERY IMPORTANT INFORMATION.
Thank You,
Richard Rothbard
---
As the producer of the Berkshires Arts Festival, I wanted to give everyone the essential information that will identify exactly how we will make the art festival a safe and enjoyable experience for all of our guests and artists. Within the guidelines that prevail, we will move gingerly through the summer until show time in August.
We are prepared to hold our event safely for both our exhibitors and our guests, and to disseminate all of this information throughout the Berkshires weeks before the event.
THE ART OF SOCIAL DISTANCING
The Berkshires Arts Festival usually takes place the July 4th weekend and is now rescheduled for August 21 & 23.
MOST IMPORTANT, WE WILL MONITOR ALL SAFTEY PROTOCOLS FROM THE TIME OUR GUESTS ARRIVE AND THROUGHOUT THE ENTIRE EVENT.
Since we charge admission we can control the Social Distancing of 6 ft as well as the numbers of attendees entering the grounds. BUTTERNUT HAS ABUNDANT FREE PARKING.
A Field Safety Guide will be available to each of our guests upon arrival at the show. Details will be published in the Shoppers Guide as a full-page ad, on our website, in our media releases, posters, on our billboard, and wherever possible.
The BAF is a Berkshire tradition that will hopefully lift the hearts and spirits of our great and passionate Berkshires arts community while providing our artists with a much- needed opportunity to sell their work.
There will be signage throughout the grounds reminding everyone to keep 6' apart. Artists will be fully briefed on all procedures and restrictions. One guest at a time will be allowed in each 10 x 10 booth at the artist's discretion.
Social distancing will prevail, and our staff will monitor compliance.
Masks will be required of all guests.
Advance tickets can be purchased online at Berkshires Arts Festival.com
Both ticket booths have glass fronts.
---
FYI
THIS IS A DRAFT OF THE PROPOSED FIELD GUIDE, WHICH WILL INCLUDE COMPLETE ARTIST LISTINGS AND BOOTH LOCATOR MAP.
• ALL ATTENDEES WILL BE REQUIRED TO WEAR MASKS AND OBSERVE SOCIAL DISTANCING FOR GUESTS AT TICKET LINE WITH SIGNS AND MARKERS IDENTIFYING 6 FT. DISTANCE REQUIREMENTS.
• HAND SANITIZERS WILL BE AVAILABLE IN EVERY ARTISTS BOOTH AND AT STATIONS THROUGHOUT THE SHOW.
• ARTISTS DISPLAYS WILL BE INSIDE 10' x 10' TENTS FULLY ENCLOSED ON THREE SIDES. ONLY ONE PERSON AT A TIME WILL BE ALLOWED INSIDE EACH BOOTH AND AT ARTIST'S DISCRETION.
• RESTROOMS WILL HAVE AN ATTENDANT AT ALL TIMES CONTINUALLY DISINFECTING. HAND SANITIZERS IN PLACE.
• SOCIAL DISTANCING AT ALL TIMES DURING THE SHOW.
• FOOD SERVICE WILL MEET HEALTH DEPARTMENT REQUIREMENTS
• EMS ON SITE
• ONLINE TICKET SALES
• SOCIAL DISTANCING SIGNS STAKED OUT THROUGH THE SHOW SITE
WE CAN'T WAIT TO SEE YOU !
PLEASE CONTACT RICHARD ROTHBARD WITH YOUR QUESTIONS AND CONCERNS
(845) 661-1221 Or email Richard@americanartmarketing.com
---
TESTIMONIALS
Dear Richard,
I wanted to write you and your wife a few words of appreciation in regards to the Berkshires Arts Festival. Thank you, your wife and crew for your hard work creating this years beautiful show. As you promised and predicted, the show was a great success. visitors commented on how they were impressed about the layout and quality of the show. Especially, i thank you for the accommodation which you provided for my work. I hope you enjoy the rest of the summer.
Kind regards, Michal Ozeri
---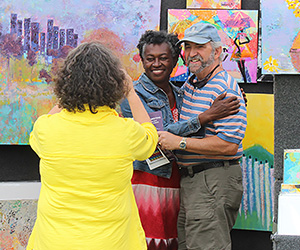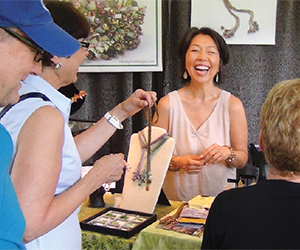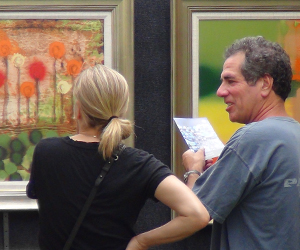 ---
ADVERTISE TO OUR VISITORS
5,000 Show Guides are given out to our visitors every year. This year another 5,000 will be distributed to key locations in the Berkshires two weeks before the show. Don't miss this opportunity.
Contact Richard Rothbard for more information, 845.661.1221

---
ABOUT THE PRODUCERS OF THE BERKSHIRES ARTS FESTIVAL
Founded by the husband and wife team Richard & Joanna Rothbard, American Art Marketing and its affiliate An American Craftsman Galleries are long-standing supporters of the arts as gallery owners and producers of an annual series of top rated juried art events in the Berkshires, Westfield NJ, NYC, and Sarasota FL.